System Information
You can use this command for obtaining some system parameters. Specify the result variable for the parameter that you want to obtain. The value of the parameter will be written into the corresponding variable.
Description
Optionally, you may add comments here describing the purpose of this element.
Local IP-address
Returns the local IP-address of the user's machine.
Screen Resolution (X)
The width of the user's screen (in pixels).
Screen Resolution (Y)
The height of the user's screen (in pixels).
RAM Size (MB)
RAM size in user's computer (in megabytes).
Windows Product Type
It writes Windows Product Type to the specified varaible. For example, it allows you to know if the user has Home or Professional Edition. You can find the list of Windows product types on this web-page.
Version of JRE
The current version of Java Runtime Environment. The variable [varname]_short equals the short value of the current version. For example, you specify jre variable name then

#jre# => 1.6.0_18
#jre_short# => 1.6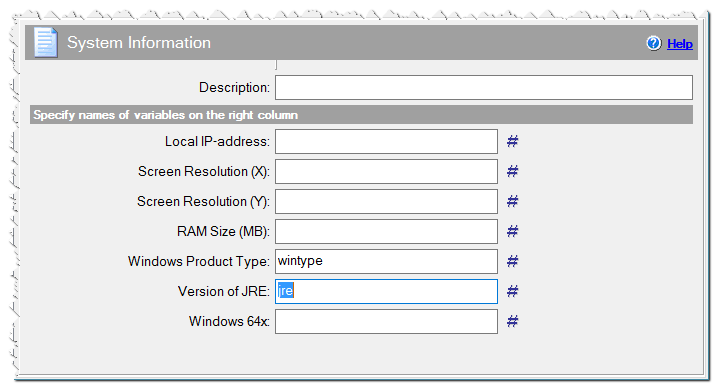 System Information command
Windows 64x
The specified variable equals 1 if the user has Windows 64x. Otherwise, the variable equals 0.