Add Log String [Registry]
Adds a log string about deleting Registry values and keys in INI-files. These objects will be deleted during the uninstall.
Description
Optionally, you may add comments here describing the purpose of this element.
Registry
Delete values or subkeys from Registry.
Root key
Specify the root key.
Subkey
The name of the Registry subkey.
Value Name
The value name to be deleted (if not specified the entire subkey will be deleted). To delete value "by default" type default.
Comment
You can add a comment for this setting here.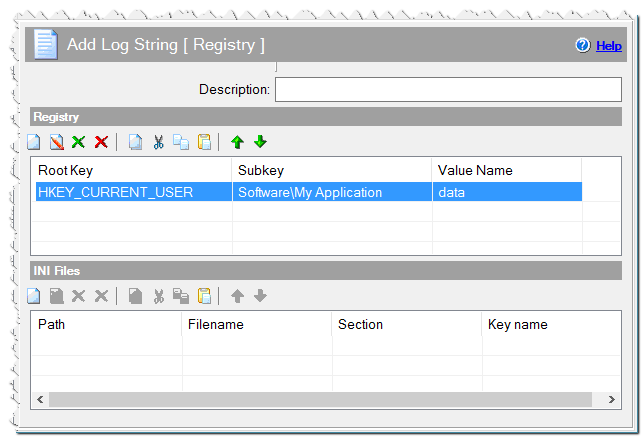 Add Log String - Registry command
INI files
Delete keys in an ini-file.
Path
APPLICATION DATA PATH - Program subfolder in Application Data folder.
CDROM PATH - CD or DVD drive.
CUSTOM PATH - The path must be defined in the filename control.
INSTALL PATH - Default installation path.
SETUP FILE PATH - The path to where setup executable file is running.
SYSTEM PATH - Windows system directory.
TEMPORARY PATH - The temporary folder of the installation #tempinstpath#. It is a subfolder genteeXX in the default temporary user's folder #temppath#.
WINDOWS PATH - Windows directory.
Filename
The name of the INI-file.
Section
The name of the section.
Key Name
The name of the key (If it not specified, the entire section will be deleted).
Comment
You can add a comment for this setting here.