How to get Control ID
Because all operations working with elements of a dialog window require knowledge of an identifier (ID) element we need, we will specify several programs, which easily allow you to get the ID of an element. Download and install one of the following free programs: WinSpy, WindowDetective, WinID, Spy++. This is by far not a full list and there exist other similar utilities. You can find more detailed information on the Internet with Google.
WinSpy, for example looks like this.

WinSpy program
Load the installation and stop on the page, where the element, which needs to have its identifier, defined is located. It is enough to drag the "target" from the program window onto the element in our dialog window, and we will receive all the information about that element, including the Control ID.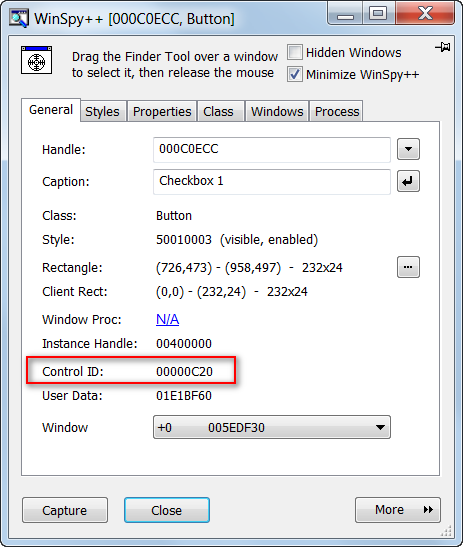 Control ID
. Typically, the Control ID is displayed in hexadecimal.
It should be noted that the Control ID will change in the command Dialog - Settings if you add extra controls above the given element in the future. In this case, you will need to find out its ID again and enter the corresponding changes, where necessary.
See also