Options and parameters for CreateInstall Assistant installation dialogs
You can enable options concerning your installation's dialog windows here.
Dialog Font
The fontname for installation dialogs.
Font Size
The size of the dialog font.
Logo Image
You can choose a suitable image, which will be shown in the upper right corner of dialog windows. If you do not like any of the suggested images, you can enter a file with your own image. The recommended size is 49x49 pixels.
Left Image
Welcome and closing dialogs do not have headings, but show a picture in the left portion of the dialog window. You can choose one of the existing images or enter a file with your own image.
Caption
You can specify your own caption for dialog windows.
Show Welcome Dialog
Check this box if you want to show the welcome dialog.
Installation Path
By default the installation path is the folder with the application's name in the Program Files directory on the user's machine. You can enter any other installation directory for your program in this parameter.

c:\my application
#appdata#\my folder
#progfiles#\My Company\My Application

Enforce Path
Check this box if you want the user not to be able to change the installation path in the choose path dialog.
Save Path for Subsequent Updates
If this box is checked, the installation path will be recorded in the registry and subsequent updates will take it from there.
Close Automatically on Completion
During file decompression the user will be shown a dialog displaying installation progress. If you want to automatically close that dialog upon completion of file decompression, check this box.
Show Finish Dialog
Check this box if you want to show a dialog with information about the successful completion of installation of your program.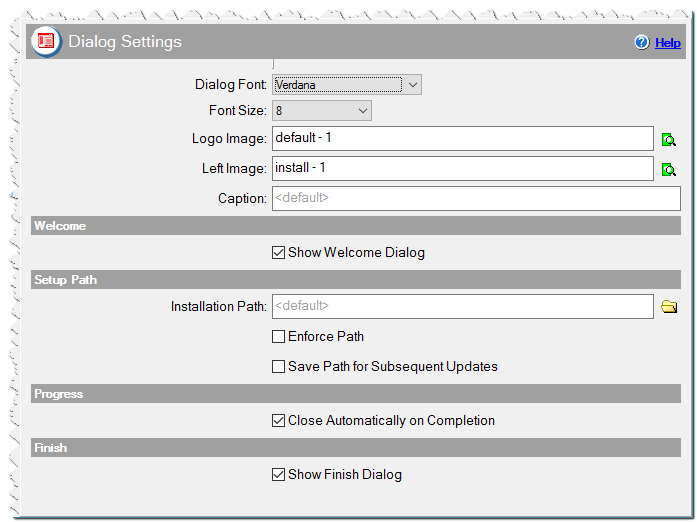 Dialog Settings in CreateInstall Assistant installer