Shell execute
Runs application or opens a file with its associated application. This command does not suspend the installation script processing until it completes.
Description
Optionally, you may add comments here describing the purpose of this element.
Path
Choose the path to an application or a file.
APPLICATION DATA PATH - Program subfolder in Application Data folder.
CDROM PATH - CD or DVD drive.
CUSTOM PATH - The path must be defined in the filename control.
INSTALL PATH - Default installation path.
SETUP FILE PATH - The path to where setup executable file is running.
SYSTEM PATH - Windows system directory.
TEMPORARY PATH - The temporary folder of the installation #tempinstpath#. It is a subfolder genteeXX in the default temporary user's folder #temppath#.
WINDOWS PATH - Windows directory.
Filename
The name of the file to be started. If you use a CUSTOM PATH, the full path to the file should be specified.
If Condition
You can specify a condition that should be met for the action to be performed. If the condition is false then the command is skipped. See How to use If Condition for more details.
Run as Administrator
Check it on if you want to run the application with administrative rights. Don't check it on if the 'Administrative rights are not required' checkbox in Install root is unchecked, because, by default, if your setup runs with administrative rights then it runs other applications with administrative rights too. This checkbox can be usefull when the installation runs without administrative rights but you need to run some program as administrator during the installation process.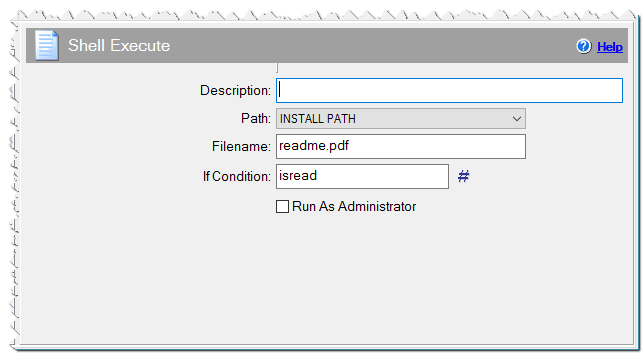 Shell Execute command